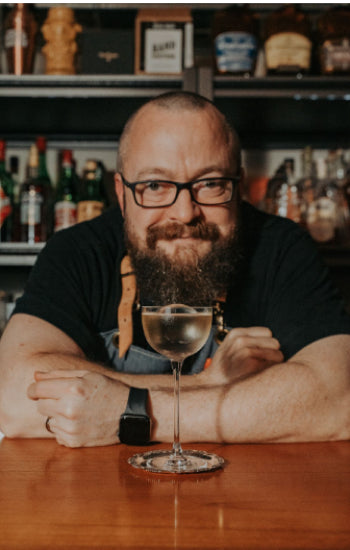 You've heard of mixology—the intimidating art of blending sweet, sour, bitter and salty notes to create an out-of-the- ordinary cocktail. It's definitely the evolution of alcoholic beverages. But it's an evolution that's been available only to a few, until the American Cocktail Club.
The American Cocktail Club is our way of curating exclusive Michelin-star quality cocktails for customers in the comfort of their home. Leading the cocktail adventure is renowned mixologist, Bob Peters.
More About Bob Peters
Bob Peters is actually a Charlotte native which makes him as rare and as special as the libations you will find behind his bar. With strong southern roots, Bob has always enjoyed the art of dining and taking care of friends.  Peters has won numerous awards including the 2015 Global Mixologist of the Year for The Ritz-Carlton Corporation, numerous Best of Charlotte Awards from Best Mixologist, Best Upscale Bar, to Most Inventive Cocktail.  He has been featured often in national, regional and local publications and is a regularly featured guest on Charlotte television. 
When you join Bob for a cocktail, be prepared to linger and let go of the reins. In no time, you will be carried away on a journey sure to delight the senses. Enjoy his libations in every box and if you're in Charlotte, NC, be sure to pay him a visit. You will be captivated by what you find. Cheers.