As seen on:





Drinks by Bob Peters
Bob is known as one of the best in his craft. The Ritz Carlton Corporation awarded him 'Global Mixologist of the Year.' Check out his instagram here.

Premium Ingredients
When we say 5 star cocktails we mean it. The spirits we select are top shelf.


Perfect for Gifting
Ideal gift for any occasion. Choose a one-time box or a monthly subscription box, include a note and start shaking!
Best Sellers
Find the perfect gift for yourself or a friend
Be the mixologist. It's easy,
we'll show you how!
When you sign up for a Bob Peters cocktail, be prepared to linger and let go of the reins. In no time, you will be carried away on a journey sure to delight the senses.
How It Works

Subscribe!
Pick a plan! 1, 3 or 6 month plans are available with a new cocktail by Bob every month.

Your Package Arrives
Our boxes ship out after the 20th each month along with a tracking email, so expect it to arrive at your doorstep soon after that.

Cheers!
Enjoy your cocktails!
Be sure to let us know how much you enjoy the drinks by leaving us a review or tagging us on social @americancocktailco
Looking to gift a lot of kits?
Whether you're sending corporate gifts, hosting a virtual happy hour, or looking for a fun and unique gift for friends and family - American Cocktail Club's got you covered. It's easy to place a group order and ship cocktails to multiple addresses nationwide.
Over 10 thousand cocktails delivered
With more happy customers than we can count, we're excited to keep shaking with you.
BEST IDEA EVER!
"My ex boyfriend was a bartender and I loved having random drinks made - but when we broke up I realized I probably won't use the ingredients for most of the weird drinks. That's why I love this box! It comes with everything I need to make the drinks (including alcohol so I can try new types without being worried I'll have to eventually finish it). These boxes also make great gifts - I just gave my most recent one to my dad for Fathers Day because I forgot to get him a gift and it happened to come in the mail. He was ecstatic! The alcohol included definitely makes this box worth it!"
Read More
- Maura P.
HARVEST PUNCH
"I've only received 1 box so far and it was the harvest punch. I've had 3 of the 4 so far and it was quite good. Good enough that I'll be looking into cocktails I can make myself at home."
Read More
- Robert K.
GREAT GIFT IDEA!
"I gifted three months of the Everything Box subscription to my dad for Father's Day. He has loved every cocktail! He tends to prefer margaritas and tequila cocktails but he enjoyed trying new, different concoctions. The box arrives nicely organized with everything needed to create the cocktail - beverage components and the recipe. I might have to get him the same thing next Father's Day, too!"
Read More
Kristen R.
AWESOME BOX!
"Such a fun box to receive. Can make a different cocktail every month which is a great way to learn about different liquors and ways to use them! The packaging is really great-everything came very neatly and their flavors are delicious. I also reached out to their customer service and they responded right way. This would be a great gift!"
Read More
Camila S.
GREAT GIFT!
"This box is wonderful! I got it as a gift for my step mom & she loved it! Everything is packaged nicely & she said she has been enjoying the drink creations!"
Read More
Katie K.
REALLY FUN AND DELICIOUS!
I got my first box (the ginger orange with mezcal and gin martinis) the drinks were easy to prepare and, frankly, the best part was that despite the fact that it was 7pm, I was in my PJs, in my livingroom, toddlers finally put to sleep, taking a sip of the drink (out of a plastic cup instead of a proper glass) transported me IMMEDIATELY back to my previous life as a decked out, dressed up, single twenty/thirty-something with a social life at the cool & and amazingly interesting bars and restaurants of NYC. I never thought I'd have that experience again--of having a really, really interesting and delicious drink just because I felt like it--and yet, here I was, re-experiencing my previous life in the comfort of my own home, without even having to hail a cab, hire a babysitter. Really fun and tasty. Thank you!"
Read More
Rebecca S.
EVERYTHING BOX WAS A HIT!
"Purchased this as a trial because I was bored with the same old thing. My first box was really yummy. Never would have ordered this drink in any venue but having it delivered, gave it a try. Super happy to have broken out of my routine. If I had to purchase all this separately, I would probably have spent more but I never would actually have done it. Will be making the drinks for the Christmas party coming up. Received a bottle of Bulleit bourbon, a small bitters bottle, a syrup, a seasonal tasting mixer and spice for topping. It was suppose to make 8 drinks and it did. Will be subscribing to more months now as my trial was a huge hit!"
Read More
Kathryn G.
SEE WHAT'S SHAKING
Share your favorite mixing moments with us @americancocktailco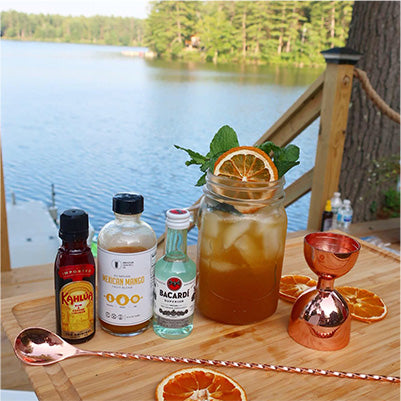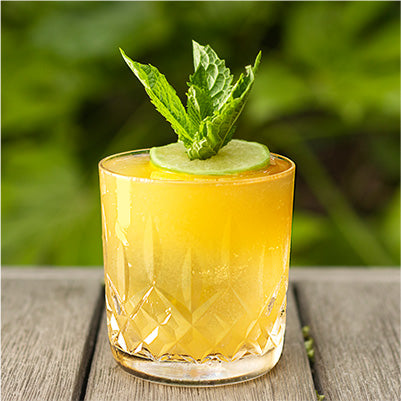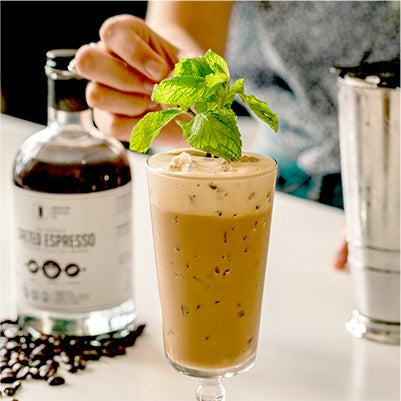 Frequently Asked Questions
What is the American Cocktail Club
Being part of the Club is like having the coveted seat at a high level mixology bar.Do you ever watch the passion and craftsmanship that goes into these bartenders' work? They are like Michelin chefs, but with alcohol! These boxesare your opportunity to experience the same wonder and awe, but in the comfortof your own home. The passion and craftsmanship has been prepped for you in thebox's ingredients. Every box comes with all of the ingredients and recipes tomake 8 servings of a world class cocktail.
When will I receive my box?
We ship after the 21st of the month so expect it soon after that!  The last day to order that month's box is the 20th, all orders taken after the 20th of the month will be pushed back to the following month's box (i.e. orders taken on February 20th will be shipped with the February shipments and orders afterthe 21st will be placed in the March box shipments).
What states do you ship the 'Everything Box' to?
We are currently unable to ship to the following states: Alaska, Hawaii, Michigan,South Dakota, Utah, Puerto Rico and Canada. All shipments must have an adult over the age of 21 sign for the delivery. Makesure to have the best address for delivery during business hours on file. Werecommend shipping to a workplace to avoid risking your package being returned. Wecurrently are unable to ship to PO Boxes or APO addresses. Please supply aphysical mailing address when filling out your shipping information.
Do you ship internationally?
At the moment we do not ship internationally.Please check back at a later time or contact us with any other questions.
How often do you release new boxes?
Once a month.Every now and then, we'll bring back a favorite, so please share your feedback with us or leave us a review!
What if I just want to buy one box?
No problem, you can purchase one box in our "Shop" page.  If you want to give us a try before committing to a subscription, the one-time box option is for you. It contains 4 servings of a cocktail curated by award winning mixologistBob Peters.What's Included in the "Everything Box": spirits, sparkling mixers, juice & syrupmixers, bitters, and garnishes. Not included: If fresh lime or lemon juice or egg white is required that will not be included. The No Booze Box will have the same components less the spirits.
Do boxes always cost the same amount?
The prices stay the same everymonth.  The only difference is price is the subscription tier you choose.  There are currently three subscription options with shippingalways included. You can sign up for the 'Everything But the Booze Box' for as low as $216 for 3 months and supply your own alcohol or the 'Everything Box' for as low as $270 for a three-month subscription which has everythingincluding our recommended spirits.  The price per box decreases the longeryour subscription length is.
Will I need to purchase anything for the boxes?
If a recipe includes fresh produce such as lemon juice, lime juice or egg white,you will need to purchase those on your own as we do not currently ship freshingredients.  This applies to both the Everything Box and the Everything but the Booze Box.  If you have ordered the Everything but the BoozeBox, you will need to purchase the liquor for that month's cocktail. 
When you first sign up for the club, we charge you in full right away. That amount sits in your account as a credit and will apply to your shipments as they go out. Note that you only ever pay for boxes you receive - there's absolutely no membership fee.For subscription renewals, you will receive an email letting you know that your subscription is about to renew and when you will be charged in full.